Chronic Cart is an up-and-coming brand and we weren't too sure what to expect from them. Having never heard of them, they reminded me of Dank Vapes with their packaging. But after searching them up, we couldn't find anything on the company other than their only social media account. Having little background, we were a little skeptical about vaping this cartridge.
Pros:
Sweet and light taste
Smooth hits
Cons:
It gives a very light high
Weak and thin oil
No lab results
Recommendations: Make the oil stronger, provide more information on the company and their lab results.
UPDATE 9/11/2019: DISCLAIMER: In light of more recent news, it has become apparent that black-market cartridges, counterfeit cartridges, and fake brands of cartridges have become more widespread than we had ever realized. We urge readers to apply their own discretion, and caution that at no point should readers assume that a review of a cartridge on our site is a guarantee of its safety. We advise readers to always verify their cartridges as coming from a legitimate source.
Chronic Carts have little background information
Before trying these out, we did some research on them and found very little background information on the company. We couldn't find any authentic website nor lab results out. We were able to find their official Instagram account, showing pictures of various flavors they have. Apart from that, there is no other source to prove that they are an authentic or registered company.
In addition, we did find a dispensary selling these carts on Weedmaps. We found a dispensary out in California called Legendary Remedies. Looking more into this dispensary, we found that they also sell cartridges like Dabwoods, Cereal Carts, Cookies Carts, and more unregulated brands. Seeing this gives less credibility not only to the cartridge but the dispensary as well.
Chronic Carts Sweetartz gives a sweet and flavorful hit, but somewhat artificial
The only thing that I like about these cartridges is the taste it gives. This particular flavor I picked up, Sweetartz, gives a nice and sweet candy-like taste to it. These carts also give smooth hits, are not harsh on the throat, and don't feel strong either. But after a while of hitting it, I personally got tired of the taste because it does taste a little artificial to me.
Strength is very low and gives a weak high
Aside from the taste, this cartridge gives a very weak and light high. It took me a while, probably around a dozen hits, to feel a decent buzz. This has to be the biggest con of this cartridge, you can barely enjoy the high without taking a lot of hits. Not only that, but it just doesn't give you a strong high regardless of how many hits you take from it. The oil in our cartridge just isn't as potent at all.
The quality of the oil is light and very thin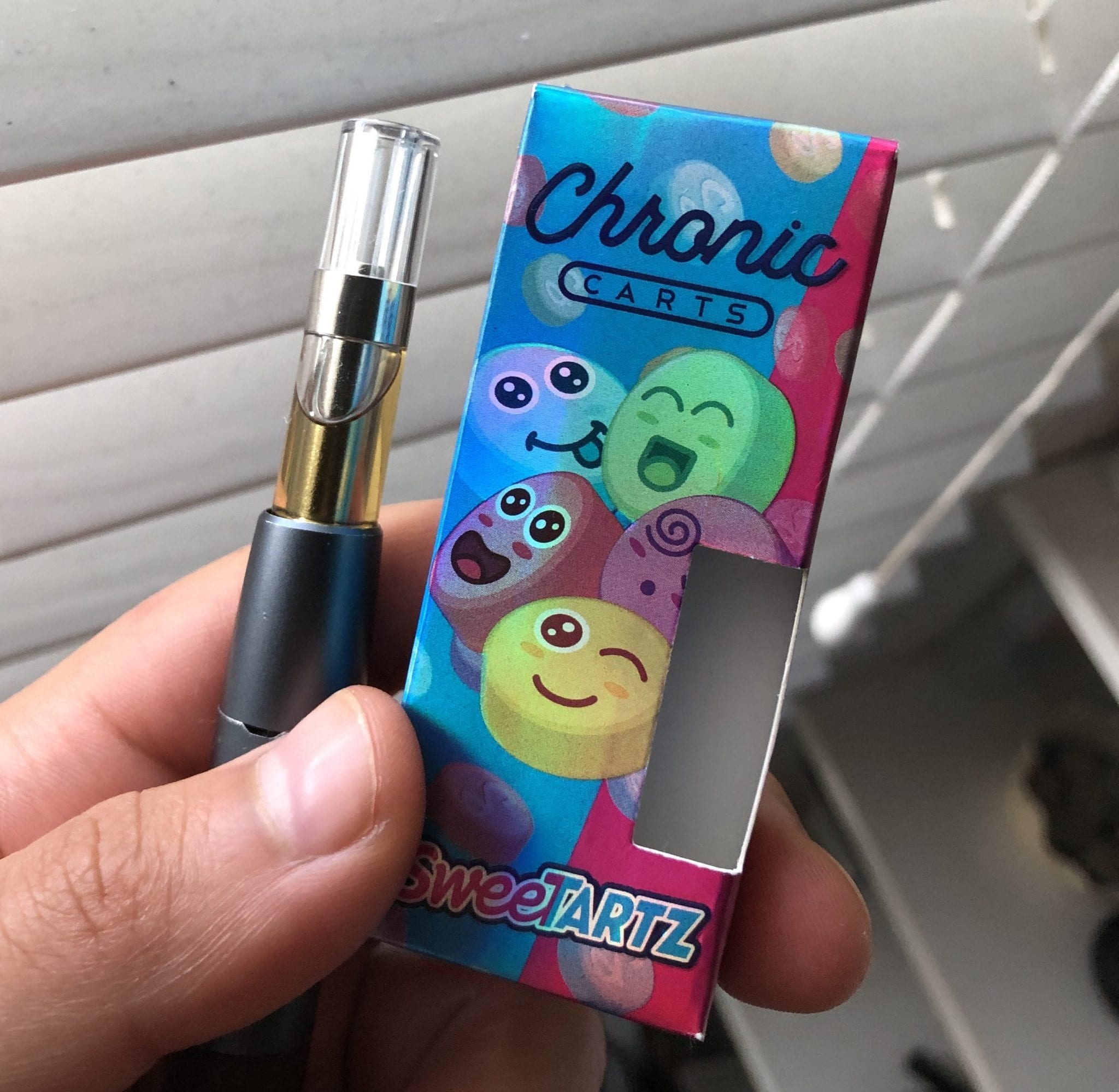 Taking a look at the oil, it seems nice at first and gives a light gold color. The oil does seem to be a little too light, but I thought nothing of it at first. After turning it upside down, we noticed that the oil quality is really thin and isn't that potent. As mentioned earlier, it really did take us a while to get high with these Chronic Carts.
These vape carts use fake CCELL hardware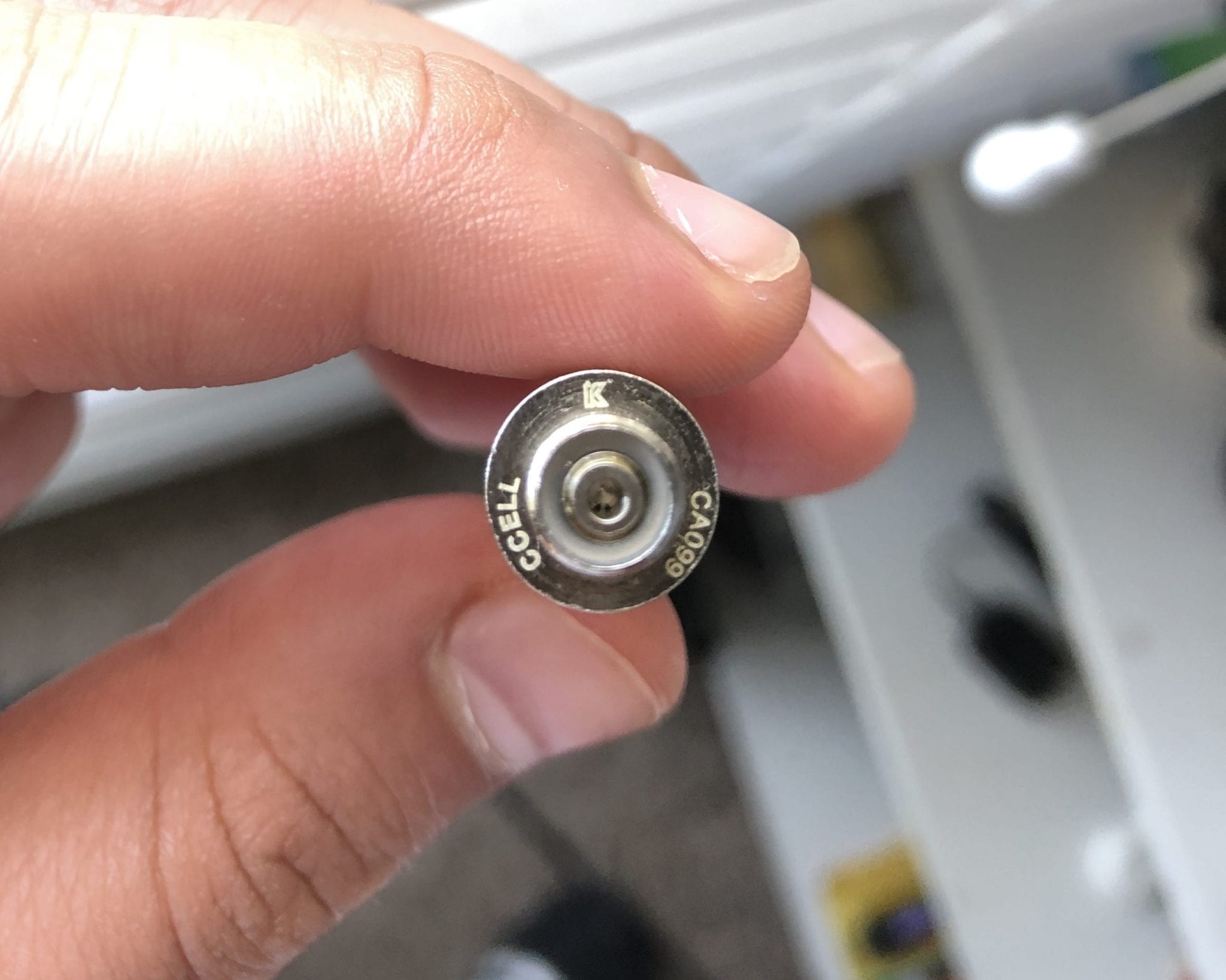 This brand uses inauthentic CCELL cartridges. At first, I couldn't tell because it looked legit. It has all three stamps underneath the cartridge along with the CA serial number. But the only thing that gave it off is that it has a white plastic ring underneath the atomizer rather than a clear one. See our post to learn more on how to identify real and fake CCELL cartridges.
Chronic Carts packaging is found for sale online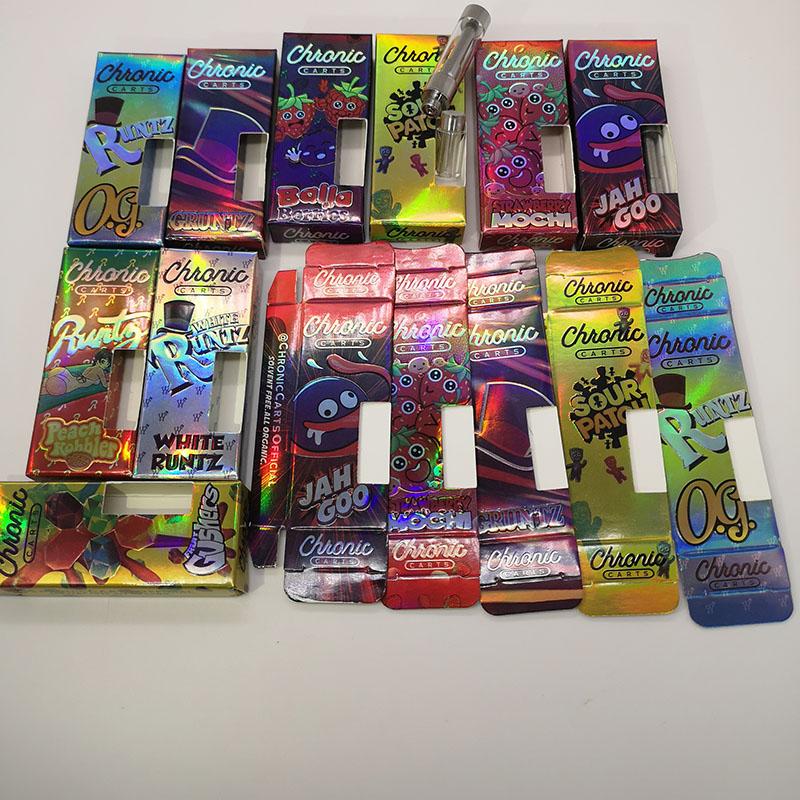 When searching this company online, we did find multiple pages on DH Gate selling these packaging with the cartridge. The worst part is that because there is little information on them online, you can't tell if yours is legit or not. Also, we don't even know where their headquarters are located, if this is a legit company, to begin with.
This makes it more susceptible to possibly having pesticides or artificial flavoring. It's difficult to say, but we aren't too sure if this company sells authentic oil or they are just street carts that are being sold on the black market.
Overall, Chronic Carts are very light in strength and are not trustworthy
To sum up, Chronic Carts aren't as strong nor of quality as we'd like them to be. Don't get me wrong, the taste is decent at first. But after a while, it starts tasting artificial and the oil just isn't that potent. This may be good if you're a light smoker who enjoys the taste of the cartridge. But for people with a higher tolerance, you won't get high as easily nor enjoy it as much.
Apart from that, they are just not that reliable with the lack of information they have online. It would be better if they say where they're located and if they have some lab results out. But since they don't and because there are many fakes out, we can't tell if our cartridge or many other carts out there are just pre-filled cartridges with sketchy oil.
Have you tried Chronic Carts? Post your review below! Questions or comments? Post below or in our forum!